Okami
Information
Gender:
Female
Age:
19
Birthday:
October 2nd
Affiliation:
Admin
Status:
Semi-active
Voice Actors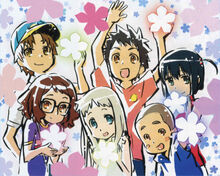 Hi. I volunteered to be an admin to help this Wiki grow, and I used to be very active here. However, because of personal things going on in my life, this Wiki has been put on the back-burner for me recently.
List Of Tasks
[
]
Upload OGG files of soundtracks and upload them on the Wiki. [Completed] (Note: Certain files were not able to be uploaded due to Wikia's file size limit. On the pages that are without OGG files, videos of the OST have been added to them instead.)
Add gradients to each template and tabber. [In progress]
Create episode and character galleries. [In progress]
Add more information to character pages, such as their personality, appearance, trivia, and quotes. Particularly with Satoshi, Tōko, Haruna, and Aki's pages. [In progress] (I may not be able to do this due to me not being the best at writing out information or summaries.)
And other things I find or think of!
Wiki's I Most Frequent
[
]